THE SUSTAINABLE MANAGEMENT ROADMAP: TAKING THE NECESSARY STEPS
ID Aparthotel places great value on sustainability. Our aim is to minimize our environmental impact through implementing various sustainable practices and procedures in our operations. We closely manage and reduce our energy and waste generation and water usage. We also choose our suppliers and partners carefully, collaborating only with sustainable businesses. Our procurement policies prioritize working with environmentally conscious partners.
In addition to our focus on the environment, we value our employees greatly. They are the backbone of our organization, so supporting and empowering them is crucial for ID Aparthotel. Our work environment fosters both personal and professional growth.
This Sustainability Management Plan outlines the sustainability strategies of ID Aparthotel, covering both environmental and social aspects. Our main missions are to preserve the planet and empower our employees. The plan has the following pillars:

- Future-Proof Building

- Green Operations

- Sustainable supply chain

- Employee Engagement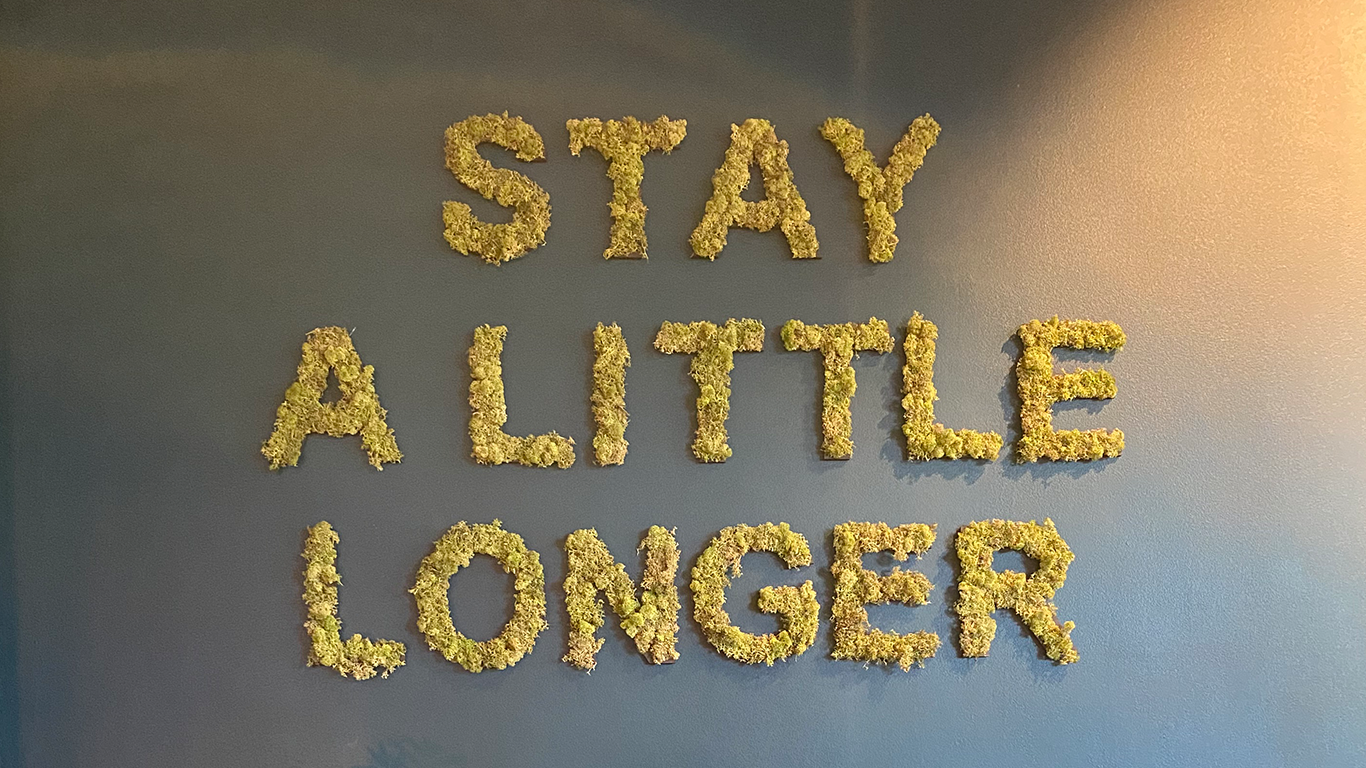 FUTURE-PROOF BUILDING
You've probably heard of recycling and reusing plastic, but did you know that buildings can also be reused? The ID Aparthotel was established 10 years ago and was actually a former office building located next to the Sloterdijk station.

The 8-story building was transformed into a more sustainable apartment hotel, with the office spaces being replaced by 127 full-service apartments. Instead of demolishing the building and constructing a new hotel, which would have resulted in negative environmental impacts, the aim of the ID Aparthotel was to reuse the existing property and minimize its environmental impact.
 
GREEN OPERATIONS
The hospitality industry is frequently criticized for having a significant negative impact on the environment. The usage of water, waste production, energy generation, and various other hotel operations around the world have a significant effect on the environment. However, at ID Aparthotel, we differ from others. Through our eco-friendly cleaning system, partnerships with environmentally conscious companies, and efforts to minimize water, waste, and energy usage, we strive to make our operations sustainable and environmentally responsible.
GREEN CLEANING
The cleaning of hotel rooms has a significant impact on the environment. This is due to the large amount of water used and the use of chemicals in the cleaning process. To address this issue, ID Aparthotel has implemented a more sustainable cleaning system. Instead of daily cleanings for all occupied rooms, we offer smaller and larger cleanings with a reduced environmental impact, using only eco-certified cleaning products.
To further minimize our environmental footprint, guests are encouraged to skip cleanings and the money saved is donated to Hotels for Trees for planting a tree for every skipped cleaning. Our linen supplier, Blycolin, also guarantees low environmental impact by using no harmful substances in production and implementing washing processes with low water consumption and reduced CO2 emissions. Additionally, all employees at ID Aparthotel are trained to prefer eco-certified products in our sustainable purchase plan.
 
WASTE MANAGEMENT 
At ID Aparthotel, we are taking various measures to minimize waste production. Firstly, we have a waste separation program throughout the hotel, not just in the food and beverage outlet, but also in the garbage rooms designated for guests, where multiple recycling bins are provided.
Our food and beverage outlet also has a zero waste policy, where we cook food according to the zero waste principle, using ingredients in multiple dishes to reduce waste as much as possible. 
 
MAKING EVERY DROP COUNT
At ID Aparthotel, we understand the significance of conserving and managing water responsibly, as water is a finite resource that is becoming increasingly scarce. Although water may seem abundant in the Netherlands, it is crucial that we take steps to reduce our usage and promote sustainability.
To this end, we have made a concerted effort to save water in all aspects of our operations, and to encourage our guests to do the same. Our showers and toilets are equipped with water-saving features, which minimize the amount of water used compared to standard fixtures. By taking these steps, we hope to do our part in promoting sustainable water management practices.

 
SUSTAINABLE SUPPLY CHAIN: A GUIDE TO MAKING A DIFFERENCE 
Our operations may be sustainable, but we can only make a positive impact on the environment and society by working together. Therefore, we strive to collaborate only with sustainable partners.
IMPLEMENTING A SUSTAINABLE PROCUREMENT POLICY 
We promote and choose our suppliers based on their commitment to sustainability through our Sustainable Procurement Policy and Declaration. The policy encompasses various aspects, such as social responsibility, financial benefits, and environmental and health impacts, in order to promote sustainable procurement within City ID.
Furthermore, we request our suppliers to sign our Sustainable Declaration form, ensuring that we only work with suppliers who follow sustainable practices."
GREEN PARTNERS 
The Good roll | The good roll is 100% tree friendly and sustainable toilet paper. The good roll
donates 50% of its profit to the building of toilets in developing countries. The toilet paper
consists of 100% recycled paper, without chlorine, dyes or fragrances.

Dilmah | Our tea supplier Dilmah has a strong history of sustainability. Dilmah wants to ensure
that tea can be enjoyed today and for generations to come. They want to create a truly
sustainable tea industry that is good for people, communities and the planet. The vision is to
offer the best tea to consumers while giving producers around the world a sustainable bargain
through sustainable processes and a better quality of life by focusing on sustainability while
Dilmah wants to be a fair and equal company. This vision and strategy applies to every brand in
the MJF Group, all of which share the same passion for quality and integrity, as well as the
ambition to serve customers in a sustainable manner.

Printing company de Bij | In 2016 and 2020, Drukkerij de Bij was named one of the greenest
printing companies in the world by Kodak. Printing Company De Bij goes for minimal
environmental impact in everything they do; in operations and in the printing process. In addition
to recycling, the printing company consciously chooses to use renewable energy. The company
runs almost entirely on its own solar energy and uses low-energy light sources. Because print
shop de Bij uses energy and other resources sparingly, its internal productions are at least C02
neutral. This is possible because the printing company offsets CO2 emissions with Greensand,
a natural product that helps to clean up CO2.

Hotels for trees | Hotels for Trees aims to make the hotel industry within Europe permanently
more sustainable by converting savings from room cleaning into new trees to be planted.
More than 1% of all CO2 emissions on earth are caused by the hotel industry and the related
travel movements, services and supplies. Specifically, for every Euro 100 spent by
hotel guests, they indirectly produce between 30 - 50kg of CO2.
Fortunately, more and more hotels are offering their guests the opportunity to offset (part of) this
CO2 in an accessible and transparent way. This is a great development, because certainly in
the world post-COVID-19, there is an increasing need for this.

Clini-clowns | We are a public collection point for printer cartridges. Both the cartridges we use
as ID Aparthotel and City ID and the cartridges used in the neighborhood we collect these and
these are collected by Clini Clowns. The earnings from these cartridges are for Clini Clowns.
 
BUILDING A SUSTAINABLE WORKFORCE 
Our employees are the cornerstone of our organization. We strive to empower and support their personal and professional growth by creating a positive and inspiring work environment. To do this, we've implemented several initiatives:
Authenticity as a core value: We believe that providing authentic hospitality is key to optimizing our guests' experience. By embracing authenticity, inclusivity and diversity are fostered.
 
Creativity as a core value: We encourage and embrace original ideas and initiatives, granting our staff freedom in how they do their jobs.
 
Yellowpad, a platform for idea sharing: All staff can share their ideas for improvement through Yellowpad and a physical "Idea Box" at team gatherings and in the back office.
 
Young ID: A group of selected non-management staff from across the organization work on and implement new ideas to create a desirable work environment for the current generation.
 
A day for yourself, a day for another: Employees are encouraged to take one day off for themselves and one to help someone else in the community. They can participate in voluntary events or take a special day off, without using their holiday entitlement.
 
Health and safety: Employees are trained in fire safety, first aid and can participate in training on how to deal with and prevent robbery and aggression.
 
Physical well-being: A gym is available for individual workouts and group lessons are organized on a weekly basis.
 
Sustainability training: Employees receive sustainability training and can participate in the "Green Team" within the organization.
 
Opportunities for growth: Employees can receive internal promotions and have access to custom-made training to further their personal development within the company.
We are dedicated to ensuring the success and well-being of our employees.