Planning your long stay? Check-in it at ID Aparthotel Amsterdam
Heading to Amsterdam? Our long stay rentals in Amsterdam promise gorgeous design, fully equipped kitchens, luxury bathroom toiletries and linens all included. At ID Aparthotel we will help you with all your long stay questions, so you can book your extended stay in Amsterdam with peace of mind.
Long stay options in Amsterdam
Are you relocating for work? In the middle of a renovation? Or have you, a digital nomad,  always wanted to live in Amsterdam for a while? Check out our spacious luxurious studios and apartments! It's a place to work, to crash after a few hours in the city, to relax and to come home after a long day.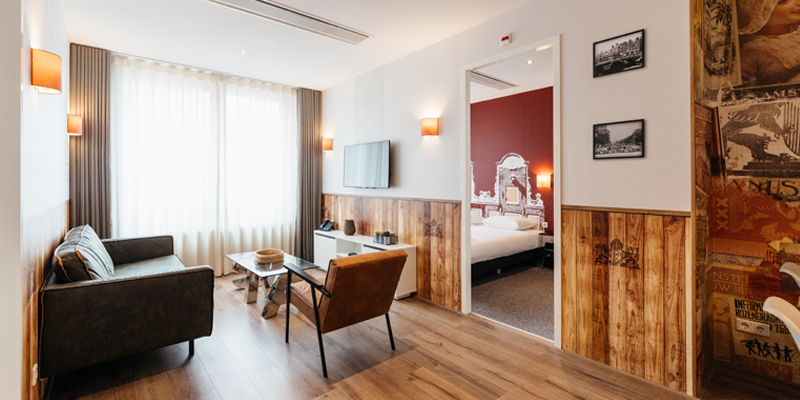 Renting an apartment?
Renting a temporary apartment is not always a great option, because you are often tied to an annual contract. At ID Aparthotel you can stay as long as you need. A few weeks or even a few months. Good to know: you can register your stay at the municipality. Another benefit of choosing an aparthotel as your short term rental: your serviced apartment is ready to use, and you'll be able to settle in quickly.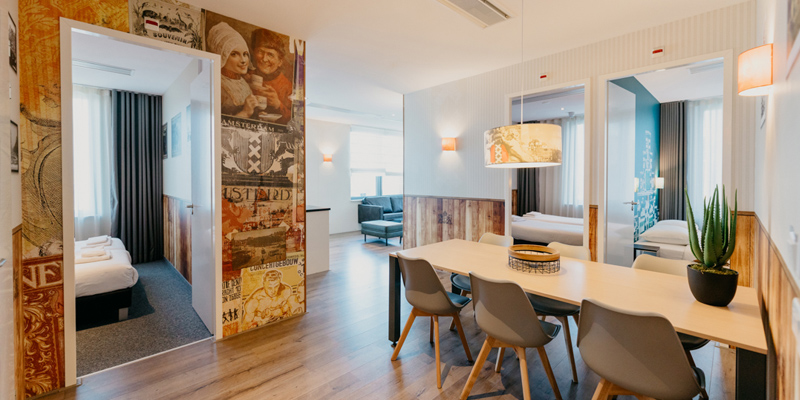 Long stay apartments of ID Aparthotel Amsterdam
Book your long stay with us, and we will make sure you will feel at home immediately.
We offer you everything you need, and more! Each studio and apartment has a fully equipped kitchen, bathroom, smart TV and high-speed internet. There's a spacious dining and sitting area where you can enjoy your breakfast, attend your Zoom meetings or opening up a nice bottle of wine in the evening.

Whether you are looking for a studio or an apartment with three separate bedrooms: we have what you need during your extended stay in Amsterdam.
Spacious apartments?
Yes! From cosy studios to spacious apartments up to 135 m² with 4 separate bedrooms. Enjoying this amount of space is quite unique in Amsterdam.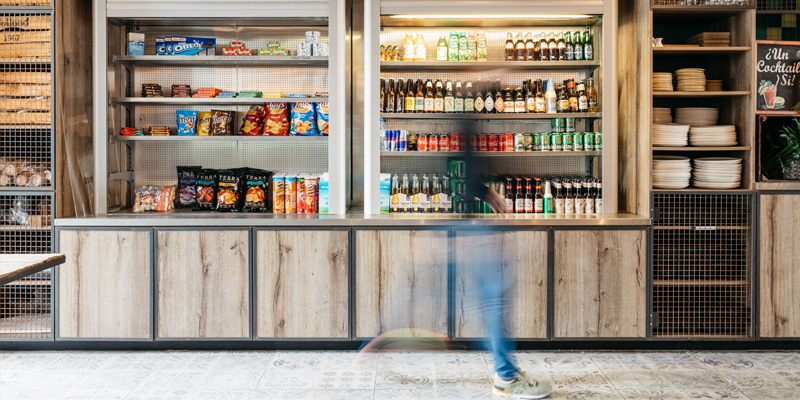 Service: we are here to help!
We will help you make your stay comfortable. Your apartment will be cleaned weekly, and we provide fresh towels and sheets every three days. Our front desk is 24/7 open for all your questions, taxi requests and the best hotspots in Amsterdam.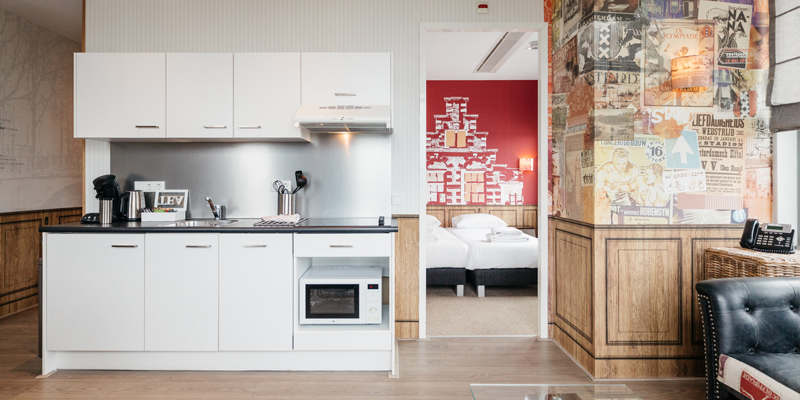 Facilities during your long stay
When you're staying a bit longer than usual, it's nice to have extra hotel facilities. At ID Aparthotel you can enjoy the sauna, gym, secured parking garage and our game room. We even have a mini-market, in case you forgot a toothbrush.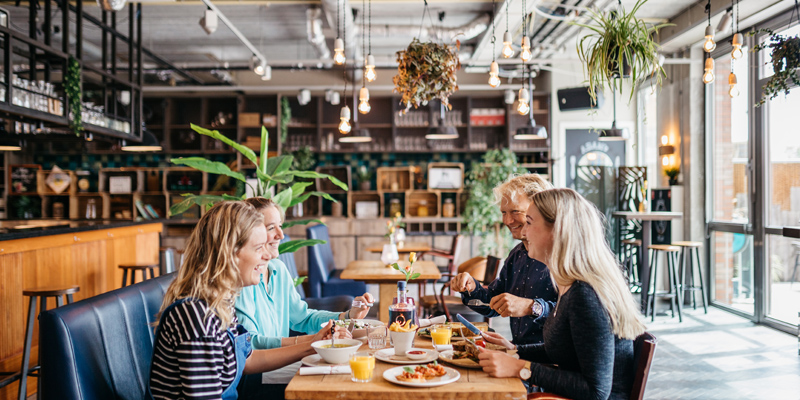 Long stay hotel with a restaurant
Perfect for those moments you don't feel like cooking, and are up for a surprise by our chef: take a seat in our restaurant Adam's ID. Start your day with a delicious breakfast, enjoy a refreshing lunch and choose our chef's selection in the evening with some of the best 'street-style dishes'. Fancy a cocktail, cold beer or a glass of wine? Just give the bartender a heads-up.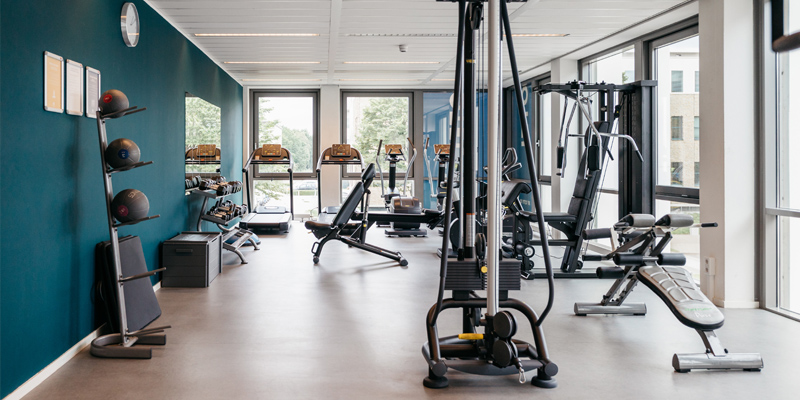 Relax & Rewind
Would you like to relax during your stay? Go to our game room to enjoy a game of pool, football or darts. Or relax in our infrared sauna, and take a refreshing shower afterwards. Prefer to smash your workout at our gym? Push yourself to the limit in our brand-new fitness studio. Our gym is equipped with a rowing machine, cross trainer, bike, treadmill and more. Yoga mats, dumbbells, kettlebells and fitness balls are available. As our guest, you have unlimited excess to our gym during your long stay.
Accessibility
Your apartment is only 200 meters from Amsterdam Sloterdijk station. The train will take you in 6 minutes to Amsterdam Central station, and within 15 minutes you arrive at Schiphol Airport and Rai Amsterdam. Another benefit of staying at ID Aparthotel, is that you are close to the A10 highway. (Read: you can lay down on the beach in Bloemendaal – or visit another city in no time!)

Want to go on an adventure? We know where to go. You're nearby Westerpark, where you'll find great restaurants, arcades and event venture Westergas. In 15 minutes on our city bike, standard in your long stay rental, you arrive at De Baarsjes, a lively and popular district with bars, restaurants and countless shops. You're always welcome to pop a few (Dutch) beers at our terrace.
Temporarily living in a hotel? Here are the main benefits:
·   Your long stay is quickly arranged. No complicated contracts, headaches and insecurities.
·   You can register at the municipality.
·   You can decide when to check out. You're not tied to an annual contract, you can stay as long as you need.
·   Busy life? Don't like cleaning? Or in a lazy mood? No worries, we clean your apartment every week, arrange fresh bed linen and towels. Would you like to dry-clean your clothes? Consider it done.
·   Hotel facilities, like a sauna, gym, and a secure parking garage. No more searching for an affordable parking space.
·   All apartments are furnished and fully equipped.
·   There's always someone to accept a package from your favourite store.
Want to know more?
Do you have questions or special requests? Our long stay specialist will be happy to make a quote for you based on our most competitive prices and conditions.
Choose your favourite long stay apartment
Getting curious yet? Discover our luxurious, spacious apartments: