This is the aparthotel in Amsterdam you're looking for
Planning a business trip (or unforgettable city trip) and are you still searching for a cool aparthotel? Perfectly located in Amsterdam? Spacious, separate bedrooms and a fully equipped kitchen? Start packing. Check in at ID Aparthotel Amsterdam!
Hey you! Welcome to ID Aparthotel Amsterdam
This is your home away from home. It's spacious. It's luxurious. It comes with all the necessary residential and business facilities. Your apartment has a fully equipped kitchen, bathroom and a spacious living area – great for your Zoom-meetings, 30 seconds nights and diner parties.
Business or pleasure? Long or short stay? We've got you. Discover all our apartments now and start packing.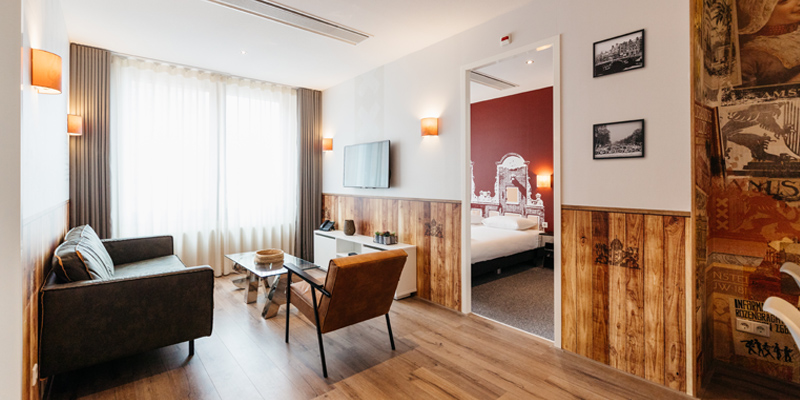 Feel at home
Plenty of space in your studio or apartment to dance with the kids, throw amazing diner parties or finish that 30 day squat challenge.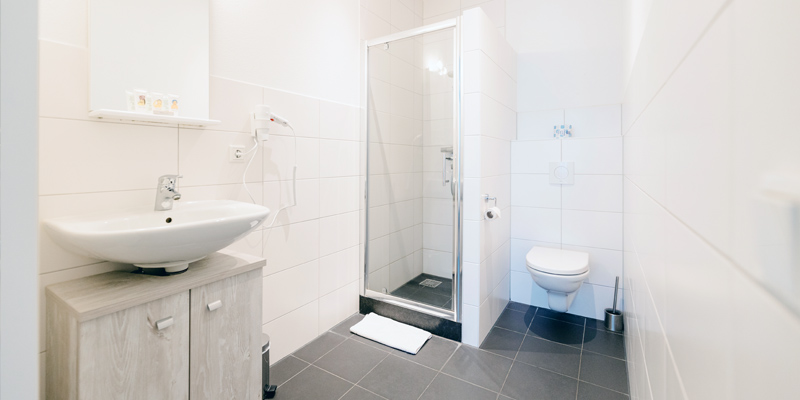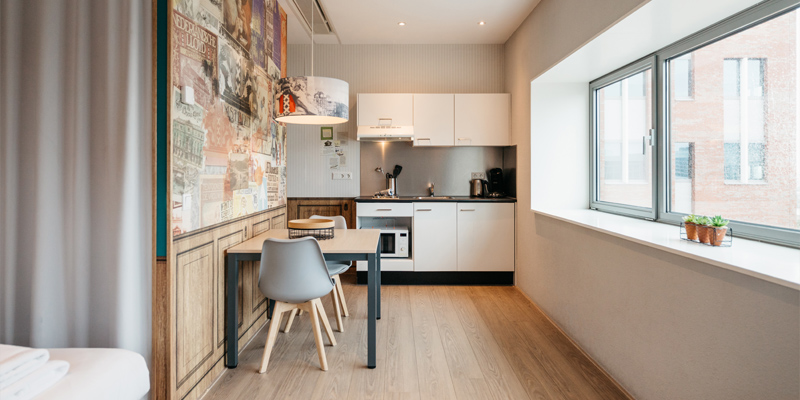 Please disturb!
Need a taxi? Or would you like to see our cool cycling routes to the beautiful canals? The best rooftop bars? We'd love to help! All our colleagues are globally savvy but locally rooted.

Refuel
Your fully equipped kitchen gives you the freedom and flexibility to eat whatever makes you happy. Pancakes in the middle of the night? Why not! You're not tied to any schedule, menu or dress code but your own.

Relax
Let's rewind after an adventurous day in the city or a hard day's work. Hit the gym, or go to our sauna, game room and restaurant. We'll clean your apartment, provide new crispy sheets and minty fresh towels. Want room service? Just give us a call.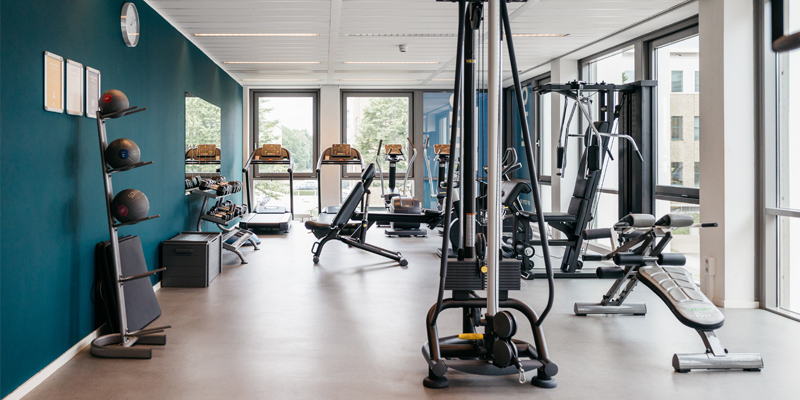 A day at ID Aparthotel Amsterdam
Let's take a closer look at your upcoming getaway... You wake up in a king-size bed, where you take a bite of your own baked banana cake. Feeling a bit lazy? Take a seat in our restaurant Adam's ID, and let our chef make your favourite breakfast. Stretch out in the lounge and read a magazine, let your kids (secretly) win in the game room, or discover the hidden gems in the city with our city bike. After exploring Amsterdam, you'll open a bottle of wine, have a sip, and before you fall asleep under our fluffy blanket, you enjoy a well-deserved relaxing shower.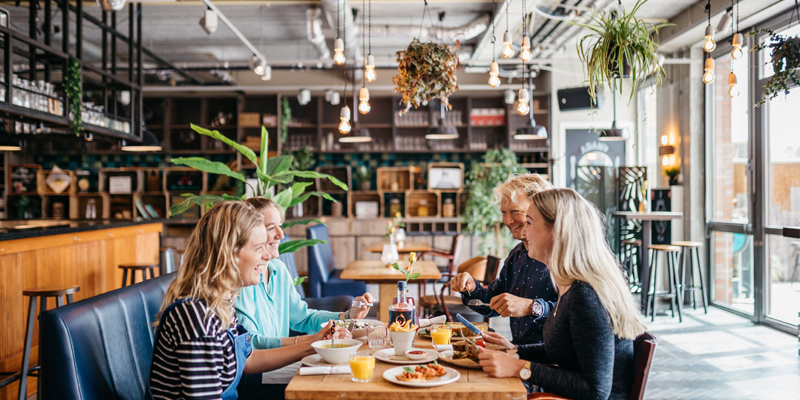 Stay comfy
Our aparthotel is the perfect blend of home and hotel. You can cook, eat, work, rest and play in a fully furnished apartment just like you would in the comfort and privacy of your own home, but with the bonus of hotel services: house-keeping, secured parking garage, infrared sauna, game room, gym, restaurant, mini market and various meeting rooms (up to 250 people). Vamos!
Never going back
That's the good thing about aparthotels. It's not just a spacious apartment. It comes with all the good things. A comfy bed, fluffy pillows, smart TV, dining table/work area, high speed Wi-Fi, safe, oven, cooker, hob, kettle, iron, fridge, hairdryer, kettle, coffee machine and more.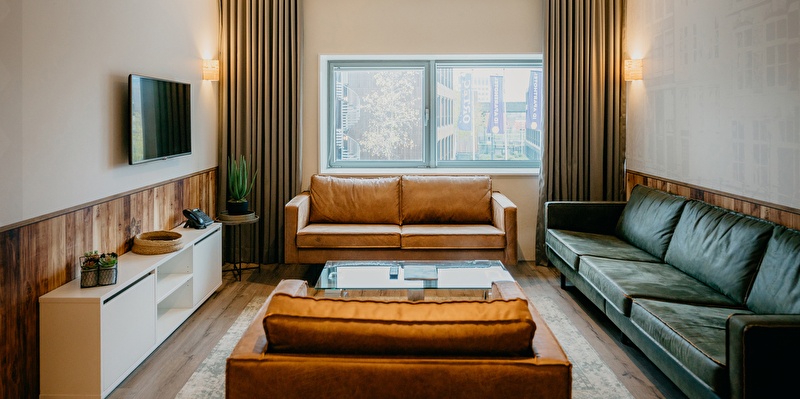 Discover our neighbourhood (& neighbours)
A little heads-up; you won't get bored. There's always a Champagne festival, legendary boat trip to join, or a fancy event at a rooftop bar. Still, just 'chilling at home' is just as good. Make yourself an Italian spaghetti, uncork a nice bottle of wine, start a Netflix show.

Want to go on an adventure? We know where to go. You're a stone's throw from Westerpark, where you'll find great restaurants, arcades and buzzing event venture Westergas. In 15 minutes on our city bike you arrive at De Baarsjes, a lively and popular district with bars, restaurants and countless shops. You're always welcome to pop a few (Dutch) beers at our terrace.
Ready for take-off?
At our aparthotel you'll find everything a globetrotter needs. And a little more.
Whether you stay with us for 2 nights, 2 weeks or 2 months, we've got the apartment that suits your adventure. Want to take a peek? Let's go, vamos, on y va!