YOUR BEST AND SAFE PLACE TO STAY
We're sending everybody some extra love in these times! And one thing we all need now is transparency. That's why we want to inform you that we are still your best and SAFE place to stay following our COVID-19 safety guidelines: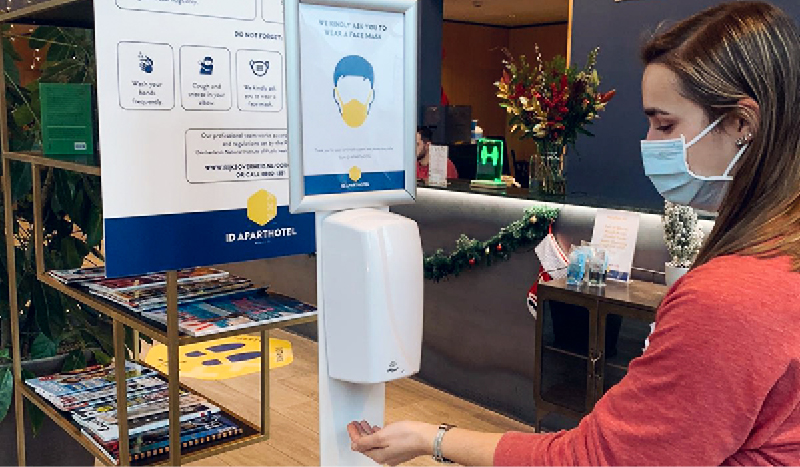 HERE FOR YOU
First things first: the doors of our hotel are open and we're happy to welcome you! We have fully equipped apartments that are well suited to stay (for a shorter or a longer period of time). We offer spacious guest rooms, kitchens, amazing service and strict hygiene protocols.
FEELING HUNGRY YET?
Don't you worry, we will never let you get hangry (meaning: bad-tempered or irritable as a result of hunger).
Government restrictions have been slightly lifted so our favourite hang-out ADAM's ID terrace is open from 07:30 AM till 10.00 PM (kitchen until 08.00) PM! We still offer amazing take-away, all you need to do is walk over to our Front Office or bar to pick-it up yourself and bon appétit!
7:30 tot 22:00 uur en de keuken is open voor bestellingen tot 20:00 uur.
Or just be your own chef and whip something up in your apartment as they are fully equipped (the best part: leave your shopping list at the reception or call 009 and we'll get the groceries for you). "Did somebody say pancakes for breakfast?"
FOR ALL THE HOMEWORKERS
Are you craving a different environment? Our apartments are still open and available for all the homeworkers. We've got coffee and tea and space for days where you can work quietly (from 8.00 till 20.00). And the option to pick-up some take-away to kickstart your day or simply treat yourself after some hard work. You can book your room-for-a-day (35,-) here
SMOOTH-SAILING DURING YOUR STAY
A safe environment is at utmost importance to us. The health of our employees and guests is our top priority and that's why we're already considered one of the cleanest hotels in Amsterdam. (We think we would even make Cinderella proud with all this extra cleaning.) Check out all the (extra) measurements we take to be #yourbestandSAFEplaceotstay.
SAFETY FIRST
OCD all day, every day
Our cleaning and hygiene protocols have been reviewed and adapted to the current situation and we have increased the frequency of all our cleaning processes, including the disinfecting of all surfaces in apartments and public areas, with a focus on the counter at the front desk, elevators (and elevator buttons), door handles, public bathrooms.
Sanitize your hands
We have installed sanitation stations throughout the building. Our front desks are also well-equipped with antibacterial hand sanitizers. We provided protocols and disinfectant to our operational team so they know what to do and may disinfect surfaces and items between guest interactions.
Keep an eye on the signs
Just follow our steps! Our hotel has floor signage in our public areas to encourage social distancing rules for the protection of guests and colleagues. With the help of our stickers, it's easy to keep the 1.5-meter distance.
Our housekeeping is rocking it!
Our staff will methodically clean the apartment following our increased standard operating procedures. The room attendant will use hospital-grade disinfectant to wipe down all high touch areas to ensure the maximum level of cleanliness. The final inspection includes treatment by hospital-grade electrostatic disinfectant. Sanitized apartments are indicated by a seal.
Actually, all our staff
We conduct daily meetings with our employees to share updates and to facilitate ongoing training. We're all trained to keep a social distance of 1,5 meter and wear protective gear. Staff with symptoms are required to stay at home until tested safe for work.
When in doubt, please DO disturb
We ask everyone to stay home when they feel sick or are showing any COVID-19 related symptoms and please DO disturb.  Give us an update on how you're feeling!
Self-isolation
Should you display symptoms associated with Covid-19, then you will be asked to strictly follow government advice and isolate yourself for at least 14 days. Housekeeping services will not be offered during the isolation period, however, the front office team is happy to arrange for deliveries to be brought directly to your apartment door.
Do you have any questions or remarks? Let us know what's on your mind!
reservations@amsterdamidaparthotel.com
---
LET'S CHECK-IN
Hopefully, you're feeling all safe and relaxed after reading our regulations and measurements. Let's do a last, fast check-in with the COVID-rules together:
We're here for you in these times. On arriving for check-in at the ID APARTHOTEL you can expect the below:
Hands-free access to the property as well as/and where this is not suitable, a complimentary supply of hospital grade hand-sanitizer located at entry, exit points and also lift areas.
Clear signage displaying the precautions outlined by the government, including social distancing rules.
You will experience minimal contact during the check-in process with our colleagues, protective guidelines and screens are present at reception areas.
Your luggage will be handled on request only, ensuring all touchpoints are sanitized.
Sanitized room keys and shared devices.
You will be provided with a complimentary welcome pack and antibacterial resources upon request
Some accessories will have been removed from the apartments to minimize contact frequency. But we can provide selected items on request.
Sincere service from our Guest Service Pro team
The comfort and luxury of your own private spacious apartment
A truly memorable stay!
We follow the website of the RIVM (National Institute for Public Health & Environment) to stay informed and we update all our protocols. Hopefully, you'll enter the doors of our #bestandsafeplacetostay soon!